"Waiting" by Katherine Cowley was a finalist in the 2012 Four Centuries of Mormon Stories contest. It was originally published online at Everyday Mormon Writer on October 27, 2012.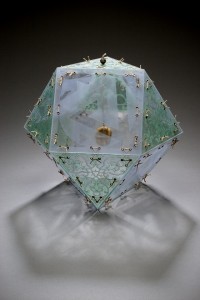 Without fail, something always went wrong during visiting teaching. As her sons Tyren and Luke ran into the room, Jayla glanced at the holographic control in her eyepiece, hoping her old computer could handle the projection layers. Luke stopped running, squinting at the layered space. He reached through the projected space and picked up a large plastic airbus, making it visible on all layers. Luke threw it straight at Jayla's visiting teacher, Luciana. The toy went through her head and bounced harmlessly onto the floor.
"Sorry Luciana. Luke has an obsession with throwing toys through visitors."
Luciana smiled. "My kids do that all the time. Last week my uncle actually came over and Tiago thought he was a projection. Luckily he only threw a rubber ball."
Jayla chuckled, and then clutched her rounded belly, biting her lip as she felt the strength of the contraction. Soft music began playing in her earpiece, fading as her skin relaxed and the cramp beneath her belly lessened. The contractions always came in sets, four or five an hour, enough to make her wonder when the baby would come, but never enough to go to the Birthing Hospital.
Luciana looked concerned. "Are you sure you don't need me to come over and help? Three weeks until your due date—the baby could come anytime."
"I'm fine, really. What were you saying about earthquakes?"